Sustainability and the Environment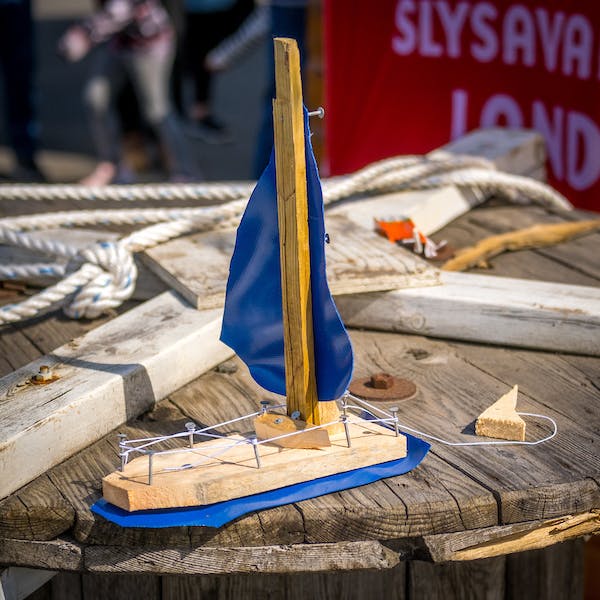 Brim's Sustainability and Environmental Policy
For years, Brim has emphasised responsibility towards the environment and society in its operations, and it has published a report detailing environmental and social aspects since 2017. Brim signed SFS's joint policy regarding social responsibility in 2020, which is based on the United Nations' Global Goals for Sustainable Development and is divided into three parts: improve the cycle, minimise the carbon footprint and energy efficiency and energy transition. The policy outlines ways to achieve these goals.
Brim has also formulated its own strategy on environmental and climate issues and set clear goals in relation to social and environmental factors. Investments and internal operations of the company are guided by these goals. There has been an emphasis on the development of a circular economy and in finding ways to reduce the company's carbon footprint, e.g. by replacing fossil fuels with green Icelandic electricity and a more efficient management of resources. The technology necessary to implement a full energy transition for our fishing fleet has yet to be developed, but Brim is monitoring that development closely. Despite that, there are various energy transition options available that relate to the operation of Brim, and some of them have already been implemented. The transition to electricity for the fishmeal production in Vopnafjörður took place over 10 years ago, but the emission of greenhouse gases due to fishmeal production increased in spite of this by almost 9 thousand tCO2* in 2022, mostly due to reductions in the available electricity supply for fishmeal production. Brim has also invested in onshore power connections for whitefish vessels, environmental management systems, more fuel-efficient vessels and has replaced refrigerants that release greenhouse gases.
Further investments in energy transition are underway at Brim, i.a. with the electrification of transportation and production equipment, which is to replace equipment powered by fossil fuels. Fair prices and consistent access to electricity must be foreseeable in the long term, in order to allow decisions to be made about such investments, and it must therefore be made clear whether the energy transition for households and traditional businesses will be a priority with regard to electricity access in the coming years. The company believes that through co-operation, an emphasis on the collective interest and rational investments in energy production, energy distribution and the optimisation of oil and other auxiliary energy sources, we could raise the bar in this field in the coming years.
*When the amount of tCO2 is noted in Brim's Annual and Social Report of 2022, it refers to the tonnes of CO2 equivalents.
Brim's Environmental Goals
Brim set ambitious goals for environmental and sustainability factors in 2021, thus continuing the company's years of environmental efforts. In 2022, these goals were factored into operations and the management policy, and an environmental and climate policy was formulated, which has now come into force. The focus has been on clear measures to monitor whether goals are being reached and status of those goals is updated, to a significant extent automatically, in Brim's environmental management system, and this development initiative has received recognition by Rannís (Icelandic Centre for Research). It tracks the oil consumption of Brim's vessels and the sorting of waste, as well as other important measurements relating to climate issues, which form the basis for the data that is provided to stakeholders as part of environmental reports and to facilitate a dialogue about climate issues within the company.
By 2025, Brim has set itself the goal of increasing the relative use of onshore electricity for vessels when they are in port by 10–20% instead of oil.
The relative use of onshore power supply remained constant for 2021 and 2022, with a total of 570 MWh of electricity being used through onshore power connections to vessels. This can be attributed to, among other things, Brim's commitment to optimising the investment in vessels, and in certain cases, the catch of fresh-fish vessels is landed close to the fishing grounds, outside of Reykjavík Harbour, where Brim has invested in onshore power supply. It is important that the infrastructure of ports throughout the country allows for the use of onshore power supply, so that fisheries companies will be able to reduce their reliance on oil.
By 2025, Brim has set itself the goal of increasing the relative use of geothermal hot water for vessels when they are in port by 30–50% at the expense of oil consumption.
In 2022, the goal of using geothermal hot water instead of oil proceeded well. The use of geothermal hot water to vessels in port was increased by 4,000 m3, to over 7,500 m3. The use of hot water goes hand in hand with the use of onshore electricity, and it is important that port infrastructure be upgraded to allow for these climate-friendly ways of working and heating on board the vessels.
The aim will be to install an electrical connection for pelagic vessels on the quayside in Vopnafjörður before the end of 2024.
Construction efforts intended to extend the quay in Vopnafjörður are underway. Along with those efforts, Brim aims to install an electrical connection for pelagic vessels.
The aim is to decrease the oil consumption of each of the company's fishing vessels by 2% each year over the coming years.
The oil consumption of the company's fishing vessels has been monitored closely this past year. There has been a continuous and fruitful dialogue between the fleet manager, the captains, engineers and others about how to reduce oil consumption, and this consumption was approximately 10% lower in 2022 than in 2021, despite the increased catch. Oil consumption per tonne of pelagic fish caught was 30% lower in 2022 than in 2021. Oil consumption per tonne of whitefish caught was 4% lower than in 2021.
When renewing the company's vehicles and heavy machinery, vehicles that use renewable energy will be a priority as much as possible.
Brim has followed through on this goal to the wxtent practicable, but in certain cases, the lack of infrastructure in Iceland has made it difficult for the company to achieve this goal. For example, it has not been possible to assume that electric vehicles can be relied on for employees who have to use them to a significant extent for trips to and from Vopnafjörður during the winter. The number of renewable energy vehicles and machinery has remained the same over that period.
The replacement of freon refrigerants is set to be completed for the most part by the end of 2025.
Significant gains have been made towards this goal in 2022. The freezer trawler Vigri RE 71 was sent into dry dock in the fall of 2022, and while there, the freon in the cooling system on the middle deck was completely replaced. It can therefore be assumed that carbon emissions due to refrigerants will mostly be excluded from Brim's environmental accounting in 2023, but in 2022, those emissions were 2,207 tCO2, which was a significant decrease from 4,371 tCO2 in 2021.
The proportion of recyclable operational waste will increase by 3% per year until the year 2025 through targeted efforts.
The proportion of recyclable waste was 77% in 2022 and 73% in 2021.
Ways will be sought of increasing the proportion of operational waste entering in the circular economy.
Carbon emissions due to waste decreased by nearly 100 tonnes in 2022 compared to 2021, which constitutes over a quarter reduction.
The company's environmental management system will be used to manage the use of electricity, cold and hot water in the most efficient way possible, as well as to reduce waste.
Brim's environmental management system is the cornerstone in the implementation of Brim's environmental policy. The environmental management system provides a clear overview of the key aspects of the activities that affect carbon emissions and generate waste. The system provides the possibility of monitoring the use of resources more closely, in real time, and the clear presentation of information facilitates the dialogue within Brim regarding the possibility of reducing carbon emissions and managing resources more efficiently.
Brim aims to become an active participant in certified carbon sequestration in Iceland through forestry, wetland restoration and/or by other methods by 2025.
In 2022, Brim invested in the land Torfastaðir in Vopnafjörður parish, a land which is about 850 hectares and is well suited to forestry. It is being planned with regard to carbon sequestration. Furthermore, it is also assumed that part of the land can be used as an outdoor recreation area for Vopnafjörður and visitors to the area. The purchase of tree seedlings has been completed, and the plan is to begin planting in 2023.
Brim Encourages Innovation in Environmental Issues
Brim was nominated for the Incentive Award at the Seafood Conference Iceland and TM in 2022, and the company won the SA (Confederation of Icelandic Employers') Environmental Award in 2019. The Incentive Award is intended to encourage new companies and entrepreneurs to increase innovation and to draw attention to the value of innovation and development in the fishing industry. The jury's comments on Brim's nomination stated that Brim was being nominated for "... being a leader in the implementation of sustainability standards and for constantly seeking new ways to use the catch more thoroughly and exploring side streams. Energy consumption and energy transition have been a priority at the company, and the company has designed its own environmental system that maps the company's total carbon footprint. In recent years, Brim has published a social report that details the impact the company has on society and the environment. Brim was the first fisheries company in Iceland to register "blue and green bonds", likely the first fisheries company in the world to do so. These priorities at Brim in environmental matters can be a strong motivation for other companies, both small and large."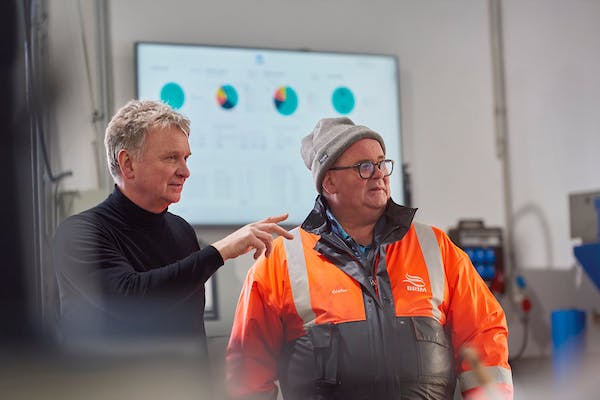 Greenhouse Gas Intensity of Income Reduced
Greenhouse gas intensity of companies' income is a measure of the ratio of value creation and the emission of greenhouse gases that occurs as a result of company activities (combination of scope 1, scope 2 and scope 3). Greenhouse gas intensity is one of the essential metrics to take into account when implementing the SFDR (Sustainable Finance Disclosure Regulation), which is just around the corner. The measure takes into account company growth and can be used to compare companies in different industries and to evaluate different investment options that affect greenhouse gas emissions. Brim has invested significantly in recent years with the goal of increased value creation and reduced greenhouse gas emissions. The investments, goal setting and measures of recent years and favourable fishing methods and market conditions have led to a significant reduction in the greenhouse gas intensity of total income. Bear in mind that many external factors can affect the greenhouse gas intensity of income, and fluctuations can be expected in the coming years, along with changes in market conditions and the state of fish stocks.
Cleaner Value Chain in Fisheries
In recent years, Brim has worked according to an environmental plan under the heading "Clear Value Chain of the Fisheries Industry", The basis of that plan is the systematic mapping of the company's environmental impact throughout the value chain, from fishing to the market. Based on this mapping, Brim works on innovation and design of new solutions to manage the ecological footprint of products. The objective of this plan is to use technological knowledge to develop new and improved processes at Brim that will revolutionise the ability of the company to manage its operations in tune with goals in the field of environmental and climate issues.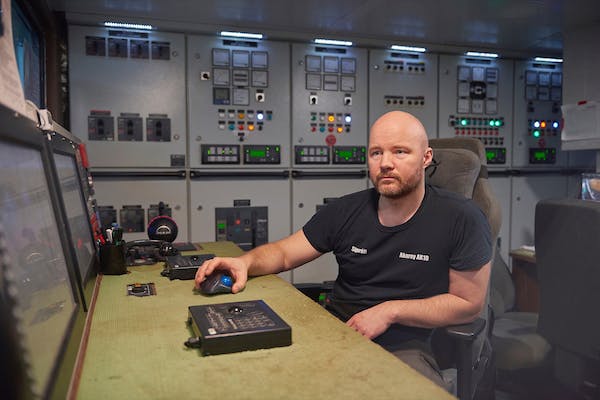 Brim's Environmental Management System Proves Its Worth
In 2022, Brim's environmental system truly proved its worth. The system maps the company's total carbon footprint, where information from the main aspects of the company's operations is streamed electronically into the environmental database where the main metrics are then displayed on the dashboard and used as important management information.
The main aspects of operations that are monitored are oil and refrigerants, export of products, domestic transport, waste, electricity and hot and cold water. Emphasis is placed on connecting environmental aspects with the financial benefits of investments and actions, by assessing income potential and reducing costs. Thus, the environmental system supports Brim's journey towards sustainable development. The system is based on good accounting practices and has been used in 2022 to publish information from the environmental financial statements every 3 months in parallel with the publication of information from the interim financial statements.
EFLA engineering firm has reviewed the presented data for the years 2020–2022, calculations in the system and the criteria of the standards and signed the environmental statement as an auditor after reconciling the data with the finances.
Emissions Accounting in Development
Brim's emission accounting has been in constant development, and more aspects of the operations have been added every year. In order to assess how emissions have developed, the carbon footprint has been calculated based on the methodology of the base year 2015. That year, emissions from the company were 71,688 tCO2, and the equivalent emission was 69,191 tCO2 in 2022. Of this, emissions due to oil consumption by fishmeal factories were 11,377 tCO2, which is about 9 thousand tCO2 more than in 2021. This is caused by reductions in the supply of electricity to Brim's fishmeal factory in Vopnafjörður.
Energy Use
Greenhouse Gas Emission Due to Fishing
The emission of greenhouse gases in Brim's operations is mostly due to the oil consumption of vessels. Emphasis has been placed on good communication between the engineer, captain, operator and other staff about oil consumption and the sharing of information about the carbon footprint of vessels. Weather, fish migration and changes in the environment are among the factors that affect the fishing of wild fish stocks. It is important to take these factors into account when comparing results on greenhouse gas emission between years.
The total oil consumption of Brim's vessels in 2022 was almost 20.4 million litres, which caused the emission of almost 57.4 thousand tCO2 during fishing a catch volume of more than 194 thousand tonnes. For comparison, emissions in 2021 were 64.4 thousand tCO2 and catch volume was 147 thousand tonnes. All Brim vessels now only use MGO or DMA fuels which have a low sulphur content of 0.1%.
Emissions due to pelagic fishing per tonne of catch volume in 2022 was only 160 kg CO2, which is significantly lower than in 2021 (220 kg CO2 per tonne catch volume) and also much lower than the emissions of wetfish vessels (710 kg CO2 per tonne catch volume) and freezer trawlers (890 kg CO2 per tonne of delivered product). Emissions from wetfish vessels are comparable to 2021, but significantly lower in the case of freezer trawlers. Emissions from the fishing of pelagic species are very low compared to most other food products, and it is likely that a significant opportunity lies in an increased focus on freezing pelagic products in competition with other food products for human consumption, if the continued increased interest of consumers in the carbon footprint of food is assumed.
Brim invested in energy-saving fishing equipment for pelagic vessels during the year, and it is likely that this investment contributed to good results in 2022. With increased co-operation between vessels, more powerful onshore electric connections when landing and continued dialog about ways to reduce oil consumption during fishing, Brim aims for further progress in this field in the coming years.
Knowledge of the state of fish stocks is extremely important in order to minimise oil consumption during fishing. In order to increase that knowledge, Brim, among other things, is collaborating with the Marine Research Institute and provides the institute with data on the size distribution of catches. In 2022, Dr. Kristján Þórarinsson was appointed Director of Fisheries at Brim, which increases the company's capacity in the field of fisheries and ecosystem research.
Furthermore, it is important that the fisheries management environment and fishermen's collective wage agreements support the journey towards a lower carbon footprint of fishing.
With increased knowledge of emission due to processing, packaging and transportation of products, Brim has achieved a much better overview of emission per kg of products. When those results are compared to the results of scientific research on greenhouse gas emissions from food production in general, it becomes clear that Brim's products have a strong position.
Support for Innovative Climate Projects
SoGreen is an Icelandic start-up company that has focused on the education of girls in Africa as a way to deal with climate change. In 2022, Brim began supporting the SoGreen project, which aims to certify carbon units in the coming seasons. More information on SoGreen's projects.
Energy Use
Energy consumption of fishmeal factories
Efforts are made to use electricity as much as possible in Brim's fishmeal factories. The fishmeal factory in Vopnafjörður was electrified in 2010. The production of fishmeal is an energy-intensive process, and a total of almost 65 gigawatt hours (GWh) of energy were used for the production of fishmeal in the year 2022. Of this, almost 24 GWh was obtained from green utilities, but electricity from national utilities to fishmeal factories was significantly reduced in 2022. Only 36.5% of the fishmeal factory's energy consumption in 2022 came from renewable energy, and Brim's fishmeal factory released 11,377 tCO2 equivalents during the year. For comparison, the electricity consumption of fishmeal factories was over 40 GWh in 2015 and 2018 when renewable electricity was about 80% of the total energy consumption of fishmeal factories.
The fuel consumption of the fishmeal factories increased from 751 thousand litres in 2021 to 3.99 million litres in 2022. Oil use per produced tonne of fishmeal from the company's fishmeal plants went from 9.0 litres per tonne in 2021 to 26.2 litres per tonne in 2022.
Brim's goal is to use environmentally friendly energy sources in the production of fishmeal.  Since the company invested in electrification, the total consumption of electricity in Iceland has increased dramatically, i.a. due to the introduction of data centres, which today use over 1000 GWh of electricity per year. The reduction of electricity to fishmeal factories means that the investment in energy transition that has already taken place is not utilised as intended. Therefore, Brim considers it extremely important that the energy transition of traditional companies be prioritised in the delivery of electricity in the coming years, so that the predictability of energy delivery can be ensured. This is a prerequisite for companies being able to make the necessary investments for the energy transition in Icelandic society to continue.
The Association of Icelandic Fishmeal Producers (FÍF) has, by signing declarations of intent with Landsnet, Rarik and HS Veitur on the one hand, and Landsvirkjun on the other hand, promoted increased electricity consumption in fishmeal processing. This way, it will be possible to reduce the use of energy sources with a greater carbon footprint and at the same time increase the likelihood that the goals of the Paris Convention and the action plans of the Icelandic government as regards climate goals will be achieved. In 2017–2021, 902 MWh of electricity were used in the processing of fishmeal in Iceland, thus saving the combustion of 87 million litres of oil. This reduced the carbon emissions of the fishmeal plants by 260 thousand tonnes of tCO2. Brim's share of the total consumption was 195 MWh, which saved the combustion of 19 million litres of oil. As a result, the company's carbon emissions decreased by 56 thousand tonnes of tCO2 during the period.
With a signature on 22 June 2020, the previous declaration of intent between FÍF and Landsvirkjun was extended, but in light of the cuts that have taken place in 2022 and 2023, work is currently underway towards an altered arrangement.
A declaration of intent between FÍF and Landsnet, Rarik, HS Veitur, on the transmission and distribution of electricity, where the parties will work together to improve climate performance with more efficient use of investments and infrastructure in mind, was signed in 2018 and is still in effect.
Brim's fishmeal production is equivalent to 6,060 cars
The oil consumption of Brim's fishmeal factories in the year 2022 is comparable to the annual consumption of 6,060 cars if it is assumed that the average consumption of the cars is 6 L/100km and that they drive 11,000 km per year.
Energy Use
Carbon Surcharge on Fuel
Carbon surcharge is a tax levied on all fossil fuels and was ISK 12.05 in 2022 per litre of gas and diesel oil for vessels. From 2015 to 2022, the carbon surcharge has more than doubled. Its levy is part of the government's plan to harmonise the taxation of vehicles and fuel with the aim of encouraging the use of environmentally friendly vehicles, energy saving, reduced greenhouse gas emissions and increased use of domestic energy sources.
The figure below shows the development of the surcharge on individual types of fuel as well as the calculation of the carbon surcharge over the past years.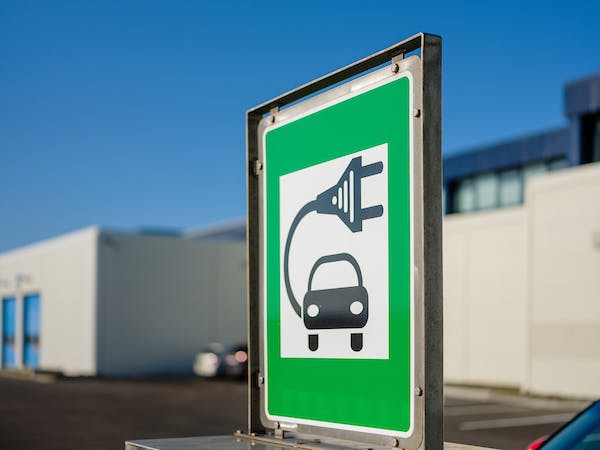 Energy Use
Vehicles and Equipment
Fuel use of vehicles and equipment is insignificant when compared to that of vessels and processing plants. In 2022, fuel consumption was 44,126 litres, which is a slight decrease from the previous year (44,965 litres). There are a total of 23 vehicles in the company's operation, which is an increase of 2 vehicles from the previous year. Brim plans to increase the use of electric vehicles and equipment over the next few years and has installed charging stations for the company's vehicles, staff and guests.
Circular Economy
Brim Builds the Circular Economy
The circular economy is an economy where resources are prevented from becoming waste. Its development is currently the government's priority and the goal is to minimise resource use and thus waste generation. Brim has been working towards these goals for years, as the good utilisation of resources and the minimisation of waste generation is positive from the point of view of the environment and the economy and also creates social value. Employees initiatives and suggestions, targeted education and co-operation with suppliers and public bodies play a key role in this context.
Waste prevention, reuse and recycling are fundamental aspects of Brim's operations. An assessment is made whether waste generated at different sites can be used at other sites. If not, the waste is sorted and its fate recorded in Brim's environmental management system. Education on waste issues is very important, and the company has prepared a video about the circular economy of waste. In the year 2022, the emission of greenhouse gases due to waste was 252 tonnes a reduction of 95 tonnes from 2021.
Tubs in Circulation
Brim uses around 5,000 fish tubs a year on board its wetfish trawlers. The tubs are washed after each landing. Proper cooling and handling of catch from fishing to processing is an important prerequisite for value creation. The total carbon footprint due to the production and transport of tubs to Brim was around 73 tCO2 in the year 2022.
Responsible Fishing
Reuse and Recycling of Fishing Gear
Fishing gear is very valuable, and Brim emphasises its durability as well as labelling in accordance with the relevant regulations. There were no mishaps in 2022 where fishing gear was lost at sea. Brim recycles, in collaboration with Hampiðjan, all fishing gear that is no longer useful. The crews of vessels and the staff of Brim's sorting stations remove the part of the fishing gear that can be reused within the company, but the rest is returned to Hampidjan, which utilises certain parts, removes non-recyclable pieces of material and sells other material to foreign recyclers.
Fisheries Iceland (SFS) receives information from Hampiðjan on the amount of fishing gear waste exported by fishing companies and sends it to the Recycling Fund. SFS has an agreement with the Recycling Fund under which the association is responsible for ensuring that waste fishing gear made of synthetic materials is recycled. At the same time, authorisations for exemptions from recycling fees levied on fishing gear made from synthetic materials are utilised.
New Towing Gear Control System Reduces Oil Consumption
So-called trawl boards are part of the fishing gear of vessels, made of steel and are used to keep the trawl open for the fish to swim into it. A new design of the controls was put into use during the year in the company's pelagic vessels, which enables the captain to control the trawl boards better than before with regard to oil consumption.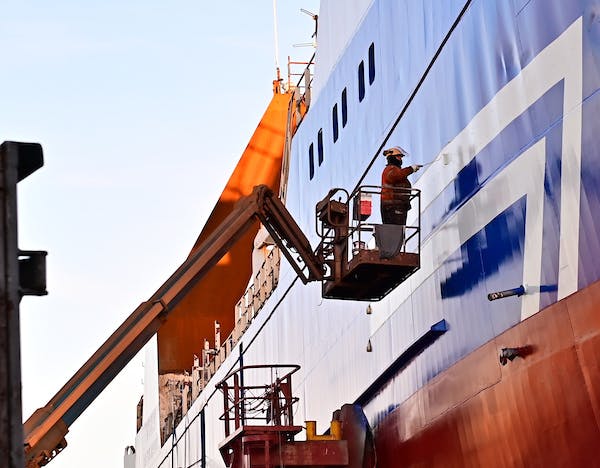 Refrigerants
Emissions from refrigerants was 2,207 tCO2 during the year, which is a significant decrease from 2021, when the emissions was 4,371 tCO2. The freezer trawler Vigri RE 71 was sent into dry dock in the autumn of 2022, and while there, the freon in the cooling system on the middle deck was replaced for the most part with more environmentally friendly refrigerants, and the goal of replacing refrigerants, which was set in 2021, has therefore been achieved. It can be assumed that emission due to refrigerants will be very limited in the future.
Transportation
Transportation of products
Transportation of Brim's products falls under scope 3, that is emissions that belong to the value chain of the products. Much emphasis has been placed on increasing knowledge within Brim about these emissions in recent years. Co-operation with suppliers has played a key role in this. Furthermore, Brim's environmental management system has been an important part of this project, which includes, among other things, streamed electronic information from Brim's suppliers. Carbon emission calculators are used in part to estimate emission due to transport, but Brim places great emphasis on the fact that in the future, real data from suppliers will be the basis for providing information on emission related to scope 3. In 2022, the total emission due to the transport of whitefish products was 3,161 tCO2. 18,082 tonnes of products were exported by ship and 839 tonnes of products by air. Emission due to transport is on average 0.29 kg CO2/kg product of fresh whitefish products, 0.10 kg CO2/kg product of land-frozen products and 0.12 kg CO2/kg of sea-frozen whitefish products.
In addition to the products that Brim exports directly, 7,941 tonnes of whitefish products were produced, which were delivered domestically and then sold on by other companies. Carbon emissions due to transport are not included in Brim's total emissions as far as those products are concerned.
Total emission due to the export of fishmeal and fish oil was 1789 tCO2, and a total of 40,943 tonnes of meal and fish oil products were exported. Emissions were therefore 0.044 tCO2 per tonne of exported product. The total export of frozen pelagic products was 24,574 tonnes, and the corresponding transportation emission are estimated at 0.12 tCO2 per tonne of products. All pelagic products are exported by vessel. Frozen pelagic products are exported by Iceland Pelagic and Icelandic Japan, and carbon emissions due to their transport are therefore not included in Brim's total emissions.
Collaboration with suppliers increases the quality of emissions information
Brim prioritises collaboration with suppliers and companies that service the company in order to increase the accuracy of information on greenhouse gas emission. Until 2021, the company's environmental statement used various carbon footprint calculators to estimate emission due to transport, and the company collaborated with its service partners on that assessment. In 2022, the innovation has taken place that Icelandair has shared actual data on emission due to the transport of Brim's products with the company's aircraft. Comparable sharing of information is increasingly being received from other service providers. Such collaboration increases the quality of the environmental statement and calls for discussions and concept work regarding ways to further reduce the carbon footprint in the value chain. Brim aims for even greater co-operation with suppliers in the coming years, so that the company's environmental statement makes the most of actual data on emission related to scope 3.
Carbon Footprint of Brim's Products
The carbon footprint of the company's products is calculated according to ISO 22948:2020 (Carbon footprint for seafood). The information is based on data from the company's environmental statement, and this is the second time that Brim has published this information. These are the changes from the previous version:
Detailed calculations of the carbon emission of all the company's exported products have been set up in Brim's environmental management system. The calculations are based on international standards used by vessel operators, as well as real information from Icelandair. Emission due to the transport of products is therefore entirely based on the company's environmental statement, and in 2021, it was based on Matís' calculations of emission due to transport to different destinations and with different transport methods.
The majority of transport of fresh products is by vessel (85.8%). Only 14.2% of fresh products is transported by air. Emission from the transport of fresh products is the weighted average of these transport routes. Calculations of emission due to the transport of fresh products for 2021 have been adjusted according to real information from service providers, to make comparisons between years more realistic. Emission due to container transport of frozen products of land processing and sea freezing is the weighted average of all ports.
Emission due to packaging was analysed in more detail than before, in collaboration with suppliers and researchers, which enables Brim to allocate emission to product categories. EFLA confirms that allocation. Emission due to packaging now take into account the production and transport of packaging and wooden pallets on which products are stacked for export.
Environmental Statement
Environmental Statement under continuous development
Brim's environmental statement has developed significantly in recent years. The statement covers emission related to the value chain of the company's products to a much greater extent than before (scope 3), e.g. rental cars, staff flights, domestic transport of goods and raw materials, import and export of goods/products to and from the company, staff trips to and from work as well as information on the carbon footprint of each production unit of inputs. To facilitate comparison between years, total emission is published, as well as emissions from the base year 2015, when the company first started calculating carbon emissions. Brim's scope of activities has increased in recent years, and in the environmental statement for the year 2022, emphasis was placed on harmonising the income and emission covered by the statement. This is done so that comparisons between years are meaningful and the impact of actions is clearly stated. Because of this, the income and number of employees are updated from previous years and only cover the groundfish and pelagic departments of Brim, which excludes the subsidiaries Vignir G. Jónsson, Seafood Services and Icelandic Japan.
If we consider emission based on the base year, in 2022, it was a total of 69,191 tCO2 and increased from 2021 by over 2 thousand tCO2. The figure below shows the development of emissions from fishing vessels and fishmeal factories in recent years and the proportionate use of electricity in the total energy consumption of fishmeal factories. Reduction in the supply of electricity for fishmeal production in 2022 is reflected in a larger carbon footprint of fishmeal production, as can be seen in the figure on the right.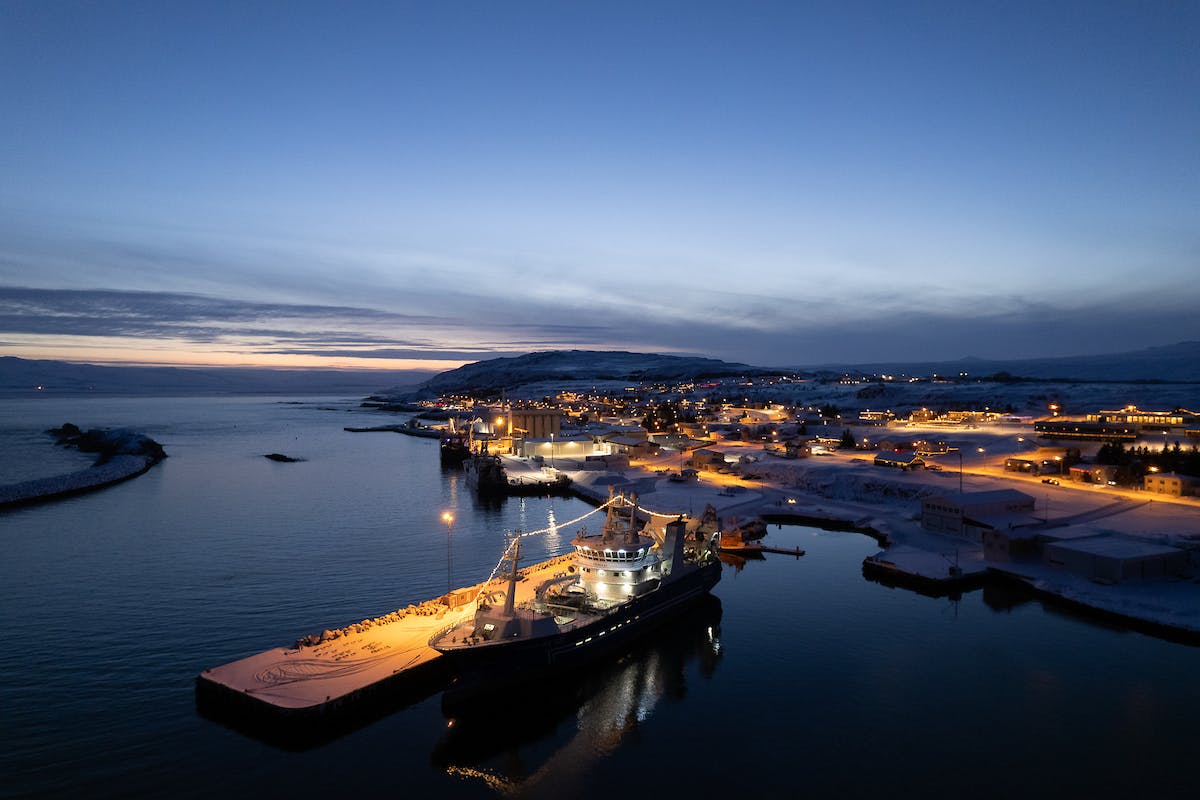 Scenario: Carbon-neutral production of fishmeal in Vopnafjörður
Brim has formulated an environmental and climate policy and set a long-term goal of carbon neutrality. The rational use of resources lays the foundation for Brim's activities, and the company contributes to responsible resource use and sensible climate action. An example of this is investment in carbon sequestration through forestry at Torfastaðir in Vopnafjörður, investment in trawl boards for pelagic vessels that save oil, co-operation of the company's pelagic vessels in fishing, integration of fishing and processing of pelagic catch and electrification of Brim's fishmeal factory in Vopnafjörður.
Collaboration within Brim and the utilisation of data and knowledge of employees as well as partners have created the conditions for analysing the emission of greenhouse gases down to fish species and systematically reducing it.
We expect that the energy transition action plan will come to fruition and that renewable energy will be the basis of sea-related activities in 2030. Investments have already been made in the energy transition of Brim's fishmeal factory in Vopnafjörður, and there are further investments in the shore connections of vessels there. Brim has set a goal of 2% less oil consumption on vessels year on year, and it can be expected that technological progress and improved knowledge of fish stocks will make it possible to achieve even better results. As can be seen in the figures below (left), Brim's production of fishmeal releases a small amount of greenhouse gases compared to what generally occurs. Assuming a 2–4% reduction in oil consumption year on year, guaranteed access to electricity and the ability to invest in energy-saving solutions and carbon sequestration, it can be assumed that Brim's fishmeal production can be carbon-neutral in 2050, as the figure on the right shows.
Community Projects
Participation in community development
Brim supports various community projects directly and indirectly.
Mothers' aid societies in Reykjavík and Akranes are voluntary organisations that provide important assistance to low-income families all year round. This assistance cannot be provided without the support of companies that support the organisations in various ways.
Brim supports robust search and rescue work at sea and on land and is a supporter of the rescue teams Ársæll in Reykjavík, Vopni in Vopnafjörður and Björgunarfélag Akraness. Two representatives from Brim are a part of a team of experts on safety within Fisheries Iceland (SFS). The team of experts consists of the persons responsible for security matters of SFS member companies. The team focuses on reducing the number of accidents and mishaps in the sector.
Brim supports sports and youth activities with a focus on municipalities where the company's operating units are located. These include grants to the Sports Association of Akranes and Einherji in Vopnafjörður. Brim supports the author Þorgrímur Þráinsson to hold his lecture "Verum ástfangin af lífinu" (Let's Fall in Love With Life) in all Icelandic primary schools.
"Last week I was invited to give four talks in Vopnafjörður during a health week that was organised by Brim in co-operation with the municipality, the schools and others. I got to read aloud in the preschool, give a talk and a reading for grades 1–4, then a lecture for grades 5–7. And last, a lecture for Brim's staff and the public in Vopnafjörður in their excellent community hall. In addition, Brim brought students in grades 8–10 a book present – the workbook from the book Let's Fall in Love with Life. The most memorable thing from the visit, apart from everyone's hospitality, is the rich vocabulary of the students in grades 1–4."
A quote from Þorgrímur Þráinsson after a course in Vopnafjörður last autumn.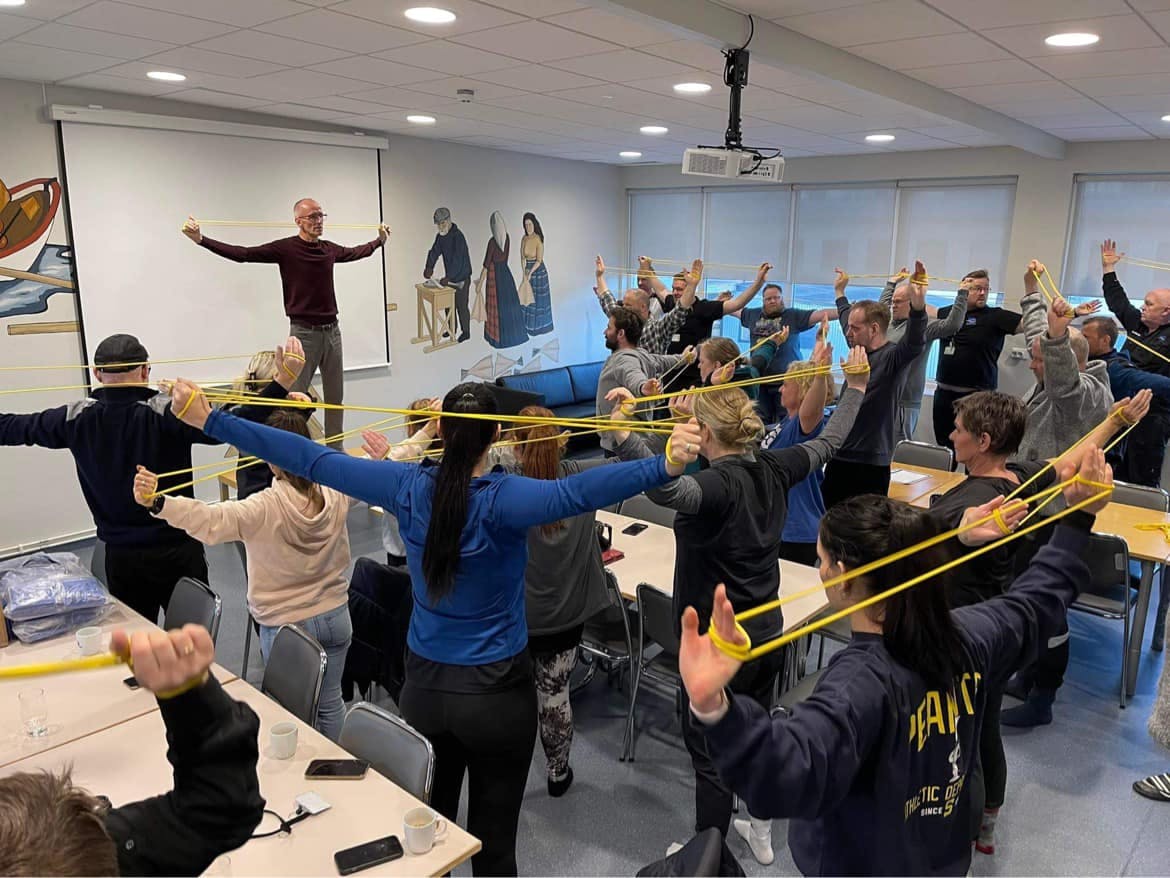 Health Days in Vopnafjörður
During Advent, Brim hosted Health Days in collaboration with Vopnafjörður parish. Health Days offered a varied programme that dealt with factors such as exercise, diet, physical exertion and health status. The project was managed by various individuals, both from the local community and elsewhere. We worked with elementary schools, preschools, community centres and gymnasiums to promote better health for all members of the community. Health Days were a great success, thanks to Brim's staff and the residents of Vopnafjörður, young and old. Health Days in Vopnafjörður were a continuation of the successful Health Days held for Brim's staff in Norðurgarður.
The Young People's Fisheries School
The Young People's Fisheries School was operated in Reykjavík for the third time in the summer of 2022. The programme is a summer school for 14- to 16-year-old primary school students in collaboration with fisheries companies, the Akureyri University, Vinnuskóli Reykjavíkur, Vinnuskóli Kópavogs and Vinnuskóli Seltjarnarness. About 70 young people in the work schools had the opportunity to attend the school for one week at a time.
Brim has been the main sponsor of the school in Reykjavík for the past three years and also invites students for a visit where they can get to know the company's activities and its history. The Young People's Fisheries School was founded in 2013 by Síldarvinnslan in Neskaupstaður, but the University of Akureyri's Fisheries Centre took over the operation in 2017. Since then, the school has been run in collaboration with regional work schools and fisheries companies in Reykjavík, in the East and in the North.
The teachers at the school are fisheries experts graduated from the University of Akureyri. Teaching is in the form of lectures where students learn about the history of fishing and fish processing, quota systems, fish species, marketing, quality issues, safety issues and much more. Students visit companies in the fishing industry and related industries, see fishing vessels, receive lectures from outside experts and visit the Maritime Museum.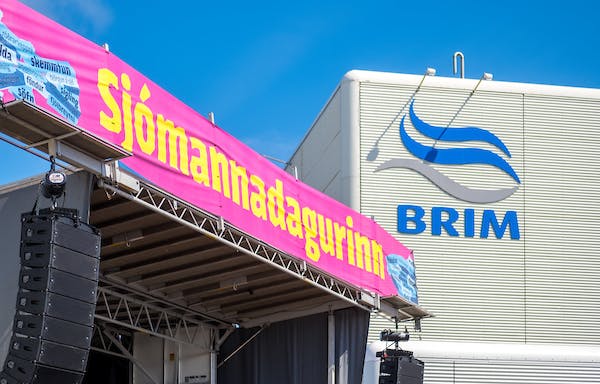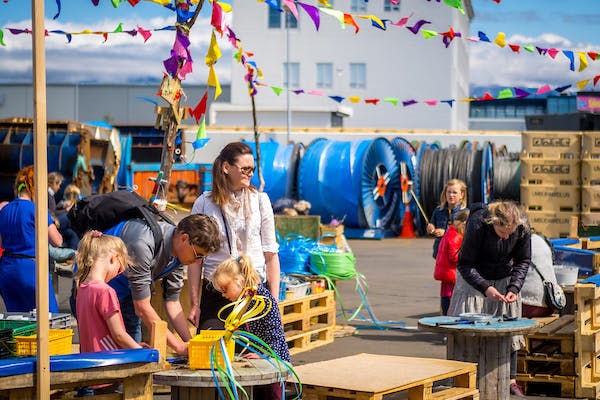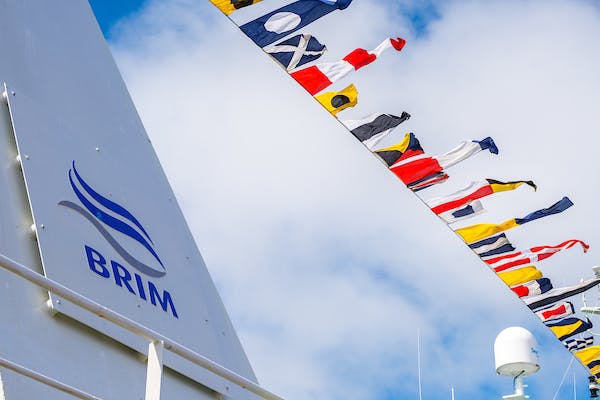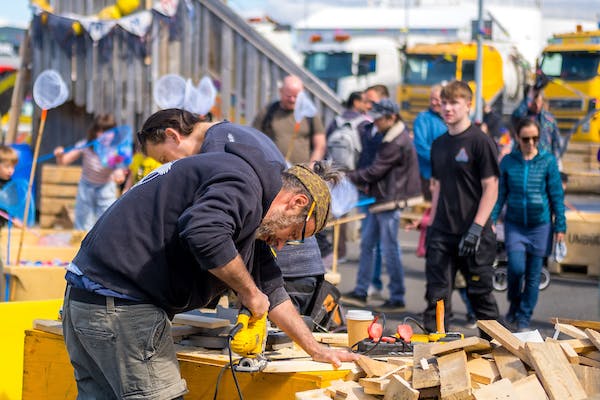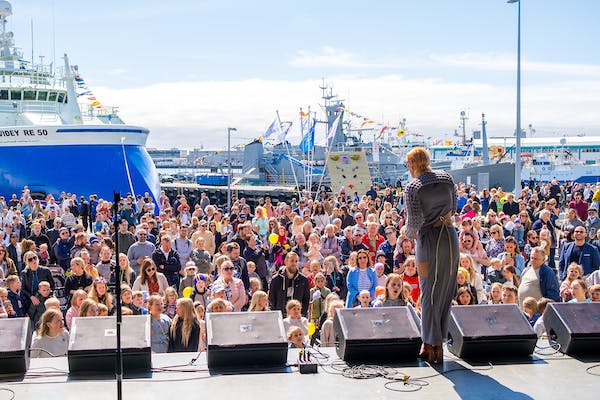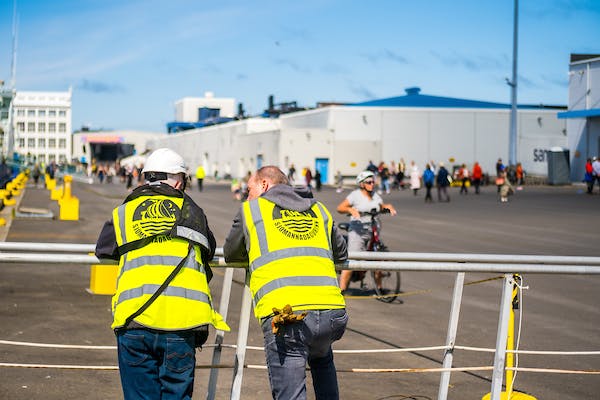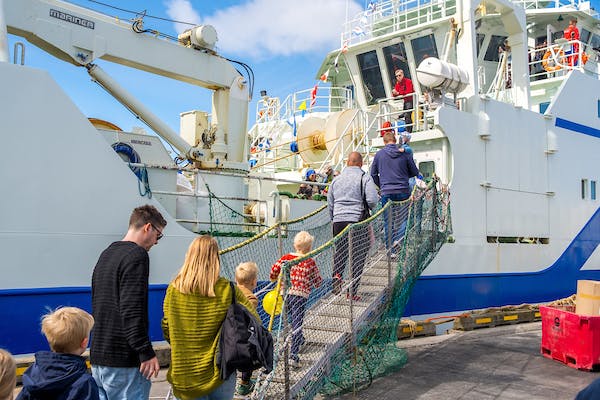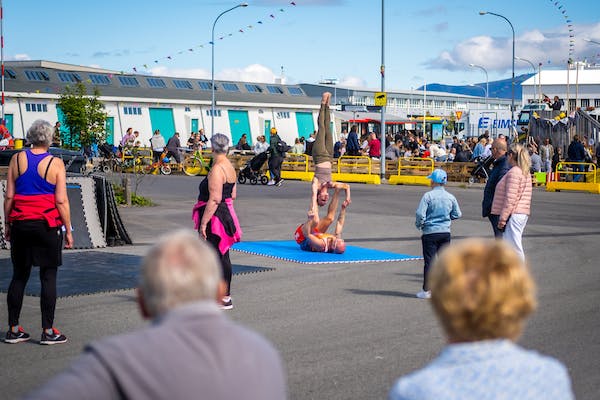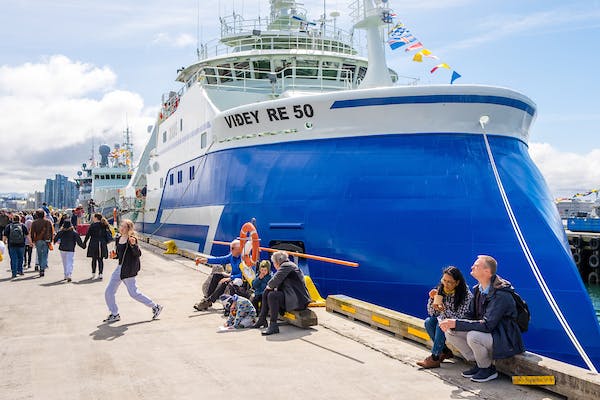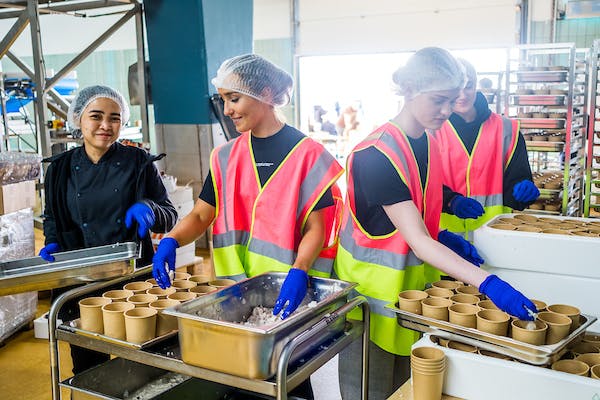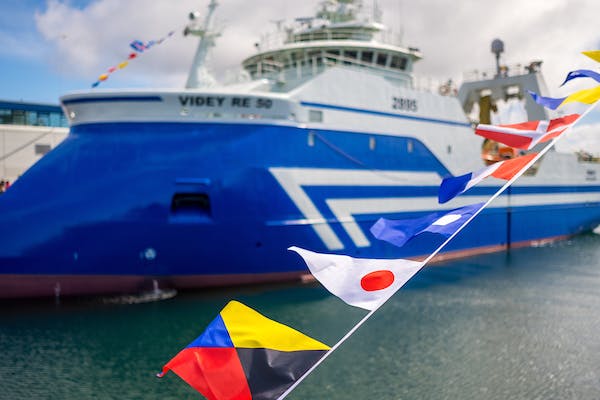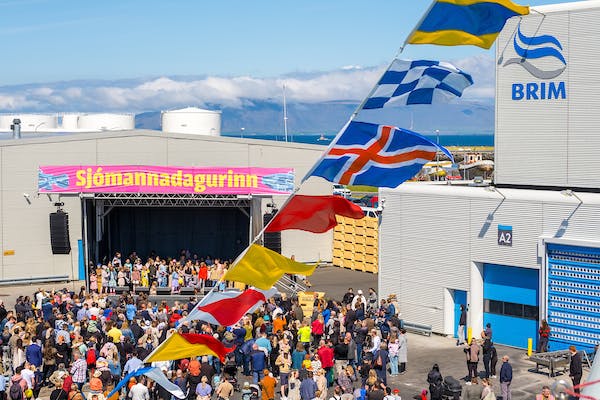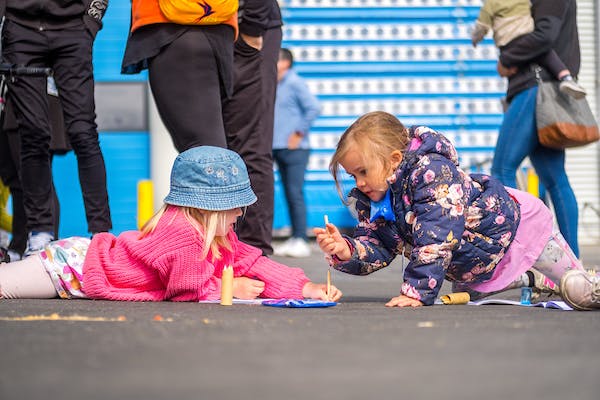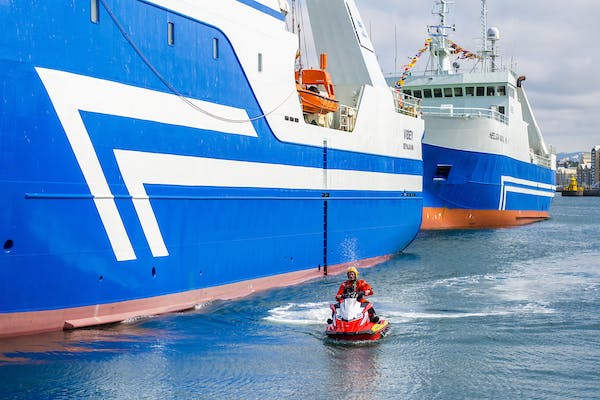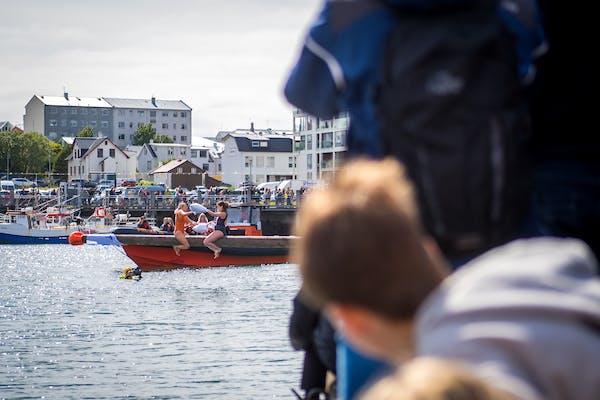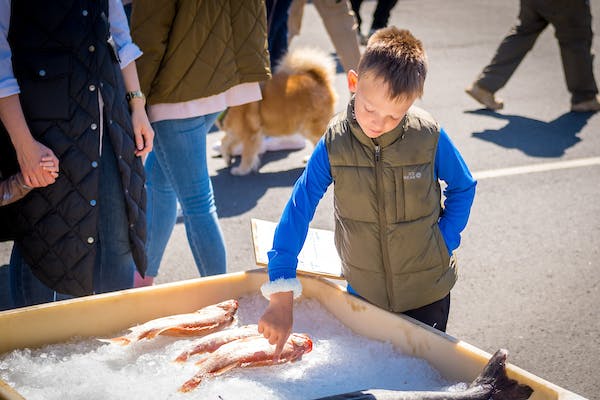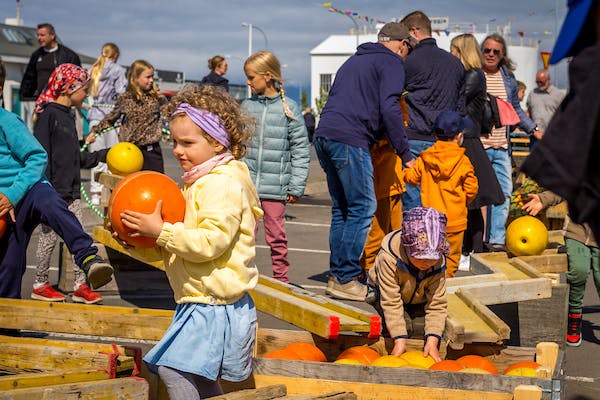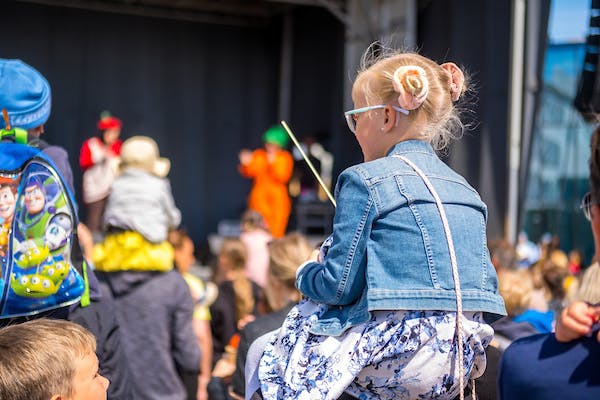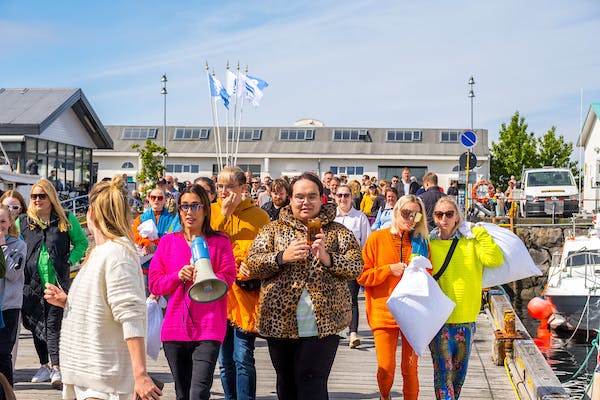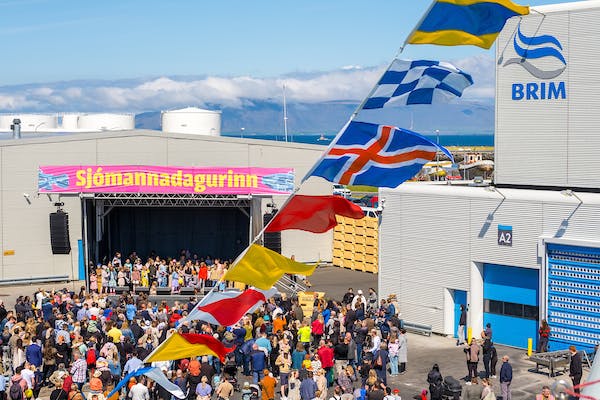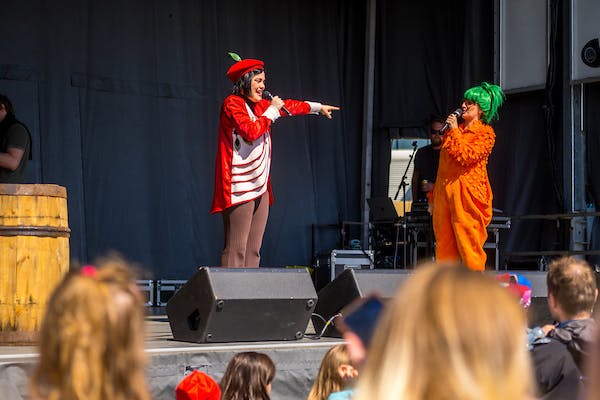 Community Projects
Sailors' Day
Brim, Associated Icelandic Ports and the Sailors' Day Committee were the sponsors of celebrations in Örfirisey in connection with the 2022 Sailors' Day. The celebrations have a long history, but had not been held for two years due to COVID-19. They were very successful, and a large number of people made their way out to Örfirisey in the mild weather. Two outdoor stages were set up, one at Brim and the other at Grandagarður. Musicians and actors performed there. In addition, there was a varied programme throughout the day in the festival area, which extended from Harpa to the outdoor artwork Þúfa. Among other things, there was a cruise with the patrol ship Þór, a sightseeing tour on board Viðey, a carpentry site with recycled timber, a pillow fight, a tug-of-war, a strength competition, face painting, Circus Iceland and much more. Then the guests of the festival could feast on delicious seafood soup, which was served by Brim in a big tent at the Norðurgarður fish processing plant.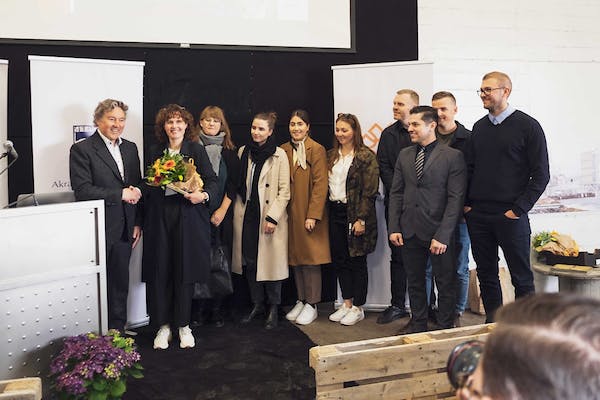 Breiðin Bustling with Activity
It is now the third year of operation of Breið Developmental, which was founded by Brim and Akranes in 2020. The company's goal is the development of Brim's area of ​​operation, Breiðin, with an emphasis on job opportunities, innovation and creative industries. It is an ambitious long-term project, which has already produced significant results. The Breið Innovation Centre has office facilities for over 100 people, as well as FabLab, teaching facilities and a biotechnology workshop under development. A total of 23 partners are involved with the collaboration on the Innovation Centre, and there were 1,115 participants in related projects in the first full year of operation.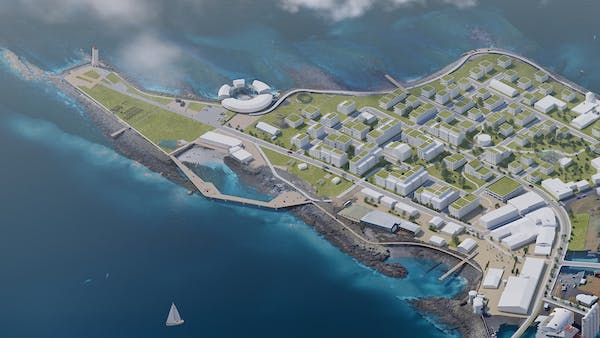 An idea competition was held for the development of Breiðin during the year. Arkþing Nordic's proposal, A Vibrant Community by the Sea, was the winner, but a total of 24 proposals were submitted to the competition.
The projects on Breiðin have received well-deserved attention, and during the year, there was, i.a. a well attended residents' meeting held in Akranes about the future of Breið, technology fairs held for a number of primary school students in the Breið Innovation Centre and visits from Icelandic and foreign cabinet ministers and members of parliament who wanted to learn about the activities and plans for development.